Wecome to Cash Flow Jewelry
We have been doing business in the heart of the Florida Keys for over 25 years.  We have the largest and best selection of jewelry in Marathon. 
We are also the exclusive dealer of the Marathon Bracelet, a local treasure and a must-have keepsake for remembering your time in paradise.
Cash Flow Jewerly features a large selection of exquisite jewelry, diamonds and bridal sets. 
Cash Flow aquires jewelry though pawn and closeouts bringing you the best deal possible for whatever your hand, wrist, neckline or ears are desiring.
Marathon Destination Bracelet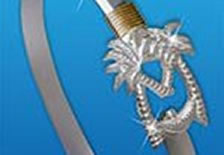 We are the only retailer in the Keys that carries this elegant bracelet. The Marathon "Destination" bracelet is a symbolic treasure reminding you of your moments in Paradise, no matter how you chose to spend them.

We are located at:
Town Square Mall
11400 Overseas Highway, Marathon, Florida 33050 Suite 121
(305) 743-4603